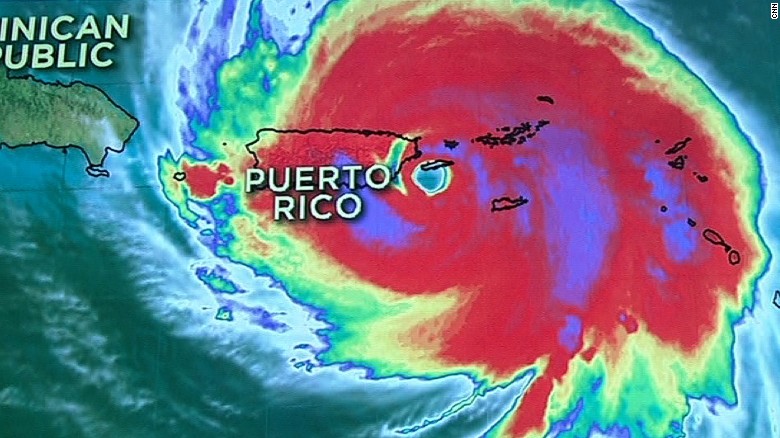 What's Next for Puerto Rico After Hurricane Maria?
Puerto Rico suffered the worst hurricane to hit the island in 100 years on September 20, 2017. Hurricane Maria destroyed Puerto Rico. So what's next for the territory of 3.5 million US citizens? Where does Puerto Rico go from here and what about it's unique tax incentive programs?
The US territory of Puerto Rico was first grazed by Hurricane Irma, which knocked out power for 1.5 weeks. Then, about 2 weeks after Irma. Maria absolutely obliterated the island. Now comes a long and difficult rebuilding effort. "It's in very, very, very perilous shape," Trump told reporters Thursday during a meeting with the president of Ukraine. "It's very sad what happened to Puerto Rico."

"Their electrical grid is totally destroyed and so many other things, so we're starting the process now," Trump said. The death toll in Puerto Rico is at 15 now, but it's expected to go higher, possibly much higher, as crews spread out through the island. Click here for video.
As of this writing, 85% of government offices have not reported in to the Governor, the island is totally without power, and most don't have cellular service. See: Puerto Rico Updates: In Puerto Rico, the Storm "Destroyed Us."
Trump also tweeted Puerto Rico Gov. Ricardo Rosselló, saying: "We are with you and the people of Puerto Rico. Stay safe."
I'm writing to you from Cancun, Mexico. I left Puerto Rico two days before the storm hit. I went to the airport and asked for the first ticket to anywhere, so here I am. I plan to be here for a few weeks at least, possibly a lot longer.
The most dramatic picture's I've seen of Puerto Rico are here: Hurricane Maria flooding, damage
Many smaller towns in Puerto Rico were totally destroyed. What the winds left standing, the floods and mudslides took. The capital, San Juan, is still there and avoided the floods. Buildings in San Juan are built to a much higher standard than elsewhere, and mostly stood up to Maria.
Now that the storm has passed, the time for assessment and rebuilding is here.  Most of our client's buildings, in the Golden Mile and Condado areas of San Juan, are intact and operating on generator power. Many will be returning to work by October 1st.
As we look to the future, it's a lack of electric power and water that will slow business and those attempting to make a life in this new reality. Until power is restored, big buildings will operate on generators, but the vast majority of the island will be in the dark.
And, throughout Puerto Rico, water is pushed along by electric power. No electricity often means no fresh water. You can expect many of the cisterns to run dry in a week or so. A long term lack of water, electricity, and a devastated tourist industry, will make life in Puerto Rico very challenging.
Ricardo Ramos, director of government-owned Puerto Rico Electric Power Authority, told CNN the island's electrical infrastructure had been "destroyed" and will take months to restore. U.S. utility crews from the mainland were headed to Puerto Rico to help with the effort.

More than 95% of the island's wireless cell sites were not working, the U.S. Federal Communications Commission said. See: Puerto Rico's power grid 'destroyed' by Hurricane Maria, leaving millions cut off. As far as I can tell, only San Juan has cel service.
Ramos also said that residents "need to change the way they cool off. For entertainment, buy a ball and a glove and change the way you entertain your children." Locals will need to go old school for some time… possibly for several months.
Keep in mind that Puerto Ricans are US citizens. They can pick and move to United States at any time. A major exodus to Florida and Texas will further deplete the islands tax base, as will a drop in tourism (November to January are key months for the industry). All of these issues are going to compound on each other and make the recovery all the more challenging.
Against this backdrop, President Trump approved a disaster declaration for Puerto Rico, making federal funds available to people and cities on the island. And in this lies Puerto Rico's long term salvation… hopefully.
As a resident, Act 20 business owner, and someone researching and writing on Puerto Rico daily, I can tell you that the power grid is the territory's greatest weakness. Power goes out once or twice a week. A light breeze or a little rain and the power's out.
The hope is that FEMA and the United States will allocate enough disaster relief to build a new power grid, and not just duct tape the current one back together. We're rooting for the storm in some ways, such that it was strong enough to totally destroy the current system.
We're also rooting for President Trump and the US Congress. While there was no appetite to bail out Puerto Rico from its financial crisis, there may be enough political wind behind the sails of the recovery to blow a pile of cash to Puerto Rico. If that's used to rebuild the power system, businesses and residents alike will benefit.
The question is, will President Trump come to the aid of Puerto Rico or will this be his Katrina?
In the long term, I'm hopeful that the US government will do the right thing and that FEMA dollars will go to rebuild infrastructure, not just keep the island alive. A rebuilding of the power grid will go a long way to  improving the island's future and could be a bright spot in these dark days (no pun intended).
In the short term, expect areas like Condado and Isla Verde to be back within 60 days. Business districts, especially Hato Rey and the Golden Mile, will be functional in 30 days. Other business areas, such as Guaynabo, were harder hit and will have a longer road.
This timeline assumes that gasoline and diesel fuel are available for the generators. It also assumes that clean water is available, which is not certain today because of the dam failure.
I also expect Puerto Rico's government to redouble its efforts to bring jobs and retain residents. New jobs will prevent flight to the mainland and bring good press to the government. Now is the time to join arms with the government and show that Act 20, 273 and 22 residents are a vital part of the community and a part of the solution to making Puerto Rico stronger than ever.  
Those who show up and put up now are sure to see the benefits down the road. I'm encouraging my clients to pitch in, get involved, and post statements of support for Puerto Rico. If the people know their jobs are there for them when this is over, and that companies are committed to the island, moral will improve.
We all need to be a part of the solution. Supporting the government and the people of Puerto Rico will be good for the island and good for business.
Remember that the tax incentives offered by Puerto Rico can't be matched by any country on earth. Only the US territory can offer corporations a tax rate of 4%. Only Puerto Rico can eliminate capital gains tax for new residents under Act 22. Only Puerto Rico sourced income is exempted from the US tax code under Section 933.
We need to preserve and expand these tax benefits by supporting Puerto Rico's government. It's time to invest in our international tax plan through hard work and community involvement.
I hope you've found this article helpful. For more information on how you can help, or to talk about how to bring jobs to Puerto Rico, you can reach me at info@premieroffshore.com or call us at (619) 483-1708.
https://premieroffshore.com/wp-content/uploads/2017/09/Puerto-Rico-Hurricaine.jpg
438
780
Christian Reeves
http://premieroffshore.com/wp-content/uploads/2023/07/Premier_Offshore_Logo-300x64.png
Christian Reeves
2017-09-24 15:59:09
2020-06-11 21:12:14
What's Next for Puerto Rico After Hurricane Maria?