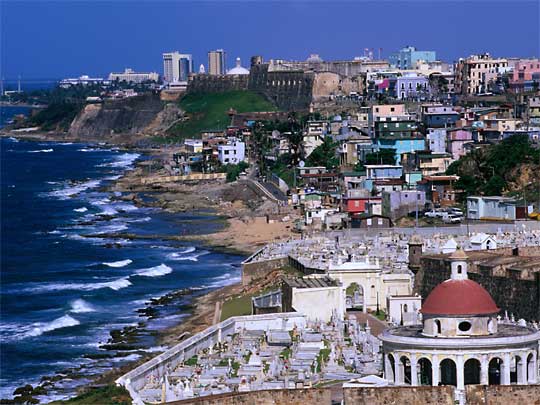 Move to Puerto Rico and Pay Zero Capital Gains Tax
Are you tired of paying in to the Obamanation? Is most of your income from capital gains taxed at 24% plus whatever your State grabs? You can eliminate tax on interest, dividends and capital gains by moving to Puerto Rico…immediately and legally.
Those of you who have been following me on  Live and Invest Overseas and PremierOffshore.com for a while know I am focused on showing business owners how they can move their operations offshore to eliminate or defer US tax using the Foreign Earned Income Exclusion. While this model works great for the entrepreneur or small business owner, it provides little benefit for retirees or those who make a living trading stocks and investing.
While the US is taxing and redistributing wealth as quick as it can, Puerto Rico has seized upon this opportunity (an Obamatunity if you will) to entice high net worth individuals to move to their happy islands. Puerto Rico has completely eliminated tax on capital gains, interest and dividends. Yes, that's right, once you become a resident of PR, you can legally pay zero capital gains tax. No more Federal tax, no complex planning, and no fear of the US government finding your offshore account.
I am not talking about only cutting out your State tax…I am saying you can jettison ALL United States tax on interest, dividends, and capital gains. This is possible because Puerto Rico, while a commonwealth of the United States, is treated as separate for tax purposes. By moving to PR, you can opt out of the Federal tax system and in to the PR tax program. This is because, under the Internal Revenue Code (IRC), capital gains are sourced to your place of residence and the IRC has one section detailing Federal law and another specifying laws of the territories.
Retired? Puerto Rico does not tax social security or unemployment income.
I would like to note here that moving to a foreign country with a low capital gains tax rate does not reduce your effective tax rate on passive investments. This can only be accomplished by relocating to a tax friendly US territory. As a US citizen, you are taxed by the US IRC on your worldwide income no matter where you live. When you move abroad, you remain under the jurisdiction of the Federal Government. So, if your country of residence taxes your gains at 5%, and the US at 20%, then you pay 5% to your country and 15% to Uncle Sam for the right to carry his passport. But, when you move to Puerto Rico, you fall under a unique section of the US tax code for the Commonwealth which trumps Federal law. You are opting out of the IRC Federal system and opting in to the IRC commonwealth system.
In other words, once a U.S. citizen becomes a resident of Puerto Rico, any income derived by that person from sources within Puerto Rico is excluded from U.S. Federal income tax, and taxed under the Puerto Rican income tax code. However, any income derived from outside of PR remains taxed under the Federal law.
So, capital assets (such as land, stocks, bonds, etc.) acquired after moving to PR are tax free. As for property acquired prior to becoming a resident, special provisions can result in a 10% long term rate from the day you qualify and a 5% tax rate applies to property acquired prior to becoming a resident and held for at least 10 years thereafter. See details below.
Why is Puerto Rico Doing This?
While I could pontificate on how PR sees the error of our ways and is a bastion of freedom and capitalism, the truth is probably less grandiose. Puerto Rico's per-capita income is around $15,200, half that of Mississippi, the poorest state in the nation. Puerto Rico has been battered by several years of recession and its unemployment rate is over 13 percent, well above the national rate, and its economy remains in a funk. Moody's Investors Services rates the island's debt one notch above junk status; and in a recent research note, Breckenridge Capital Advisors said the island was "flirting with insolvency." The island has the weakest pension fund in America and by some estimates could run out of money as soon as 2014.
I also note that these tax breaks apply only to new residents and not those currently living in Puerto Rico. More specifically, they are available to individuals who have not been residents of Puerto Rico within in the last 15 years and who become residents of Puerto Rico on or before December 31, 2035. As such, PR is obviously attempting to bring in new money to revitalize their fledgling economy.
Qualifications
To qualify, you must become a tax resident of Puerto Rico, reside in PR for at least 183 days a year, and file an application for the exemption with the local tax authority. Once approved, the decree establishes the terms of the exemption and has the effect and force of a contract during the entire benefit period. Considering the weakness of the PR economy, and how frequently tax laws change, this contract status is a major benefit.
Incentives
The tax incentives available to individuals are as follows:
100% tax exemption on interest and dividend income earned after the nonresident individual becomes a resident of Puerto Rico; also applies with respect to alternative minimum tax (AMT) up to tax year 2036
100% tax exemption on interest, financial charges, dividends or distributive share on partnership income from international banking entities in Puerto Rico including AMT
100% tax exemption on long-term capital gains realized and recognized after becoming a resident of Puerto Rico but before January 1, 2036
If not realized and recognized within the incentive timeframe, regular individual long-term capital gain applies (currently at 10%)
Applies to appreciation of property after becoming a resident of Puerto Rico
5% tax on long-term capital gains realized before becoming a resident of Puerto Rico, but recognized after 10 years of becoming a resident of Puerto Rico, as long as recognized before January 1, 2036
This 5% long-term capital gain tax only applies to the portion of gain that relates to the appreciation of the property while the individual lived outside Puerto Rico
If the long-term capital gain is not recognized within these time periods, applicable individual long-term capital gain rate would apply on any Puerto Rico-source long-term capital gain
Puerto Rico also has great incentives for business owners, based around the tax breaks on dividend payments, which I will detail in a future article. If you are considering living and working abroad, give Puerto Rico a chance. Because of its status as a US territory, these islands can offer tax incentives to US citizens that are not available anywhere else in the world.
https://premieroffshore.com/wp-content/uploads/2013/10/Puerto-Rico-Pic.jpg
405
540
Christian Reeves
http://premieroffshore.com/wp-content/uploads/2023/07/Premier_Offshore_Logo-300x64.png
Christian Reeves
2013-10-05 14:34:40
2017-08-05 13:28:21
Move to Puerto Rico and Pay Zero Capital Gains Tax