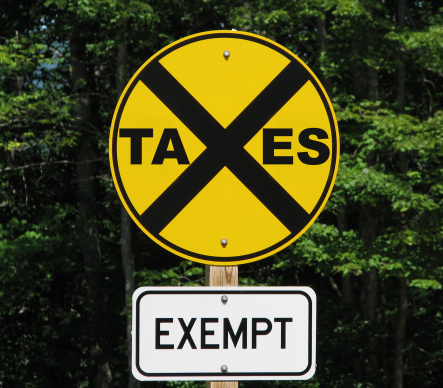 Eliminate U.S. Tax in 5 Steps with an Offshore Corporation
Yes, you, the offshore entrepreneur, can eliminate your US tax bill by forming an offshore corporation and following the five steps below.
As you are painfully aware, the United States taxes its citizens on their worldwide income. No matter where you live, or how much you make, America want's its cut. Using an offshore corporation will level the playing field just a bit.
If you are a salaried employee in a high tax country, such as France or England, then the US tax system can't get much, if anything, from you. You have already paid more in taxes to your host country than you would have to the US, so the Foreign Tax Credit steps in and prevents double taxation.
In other words, if the US tax rate is 30%, and you, as an American living in London, pay 35% to The Queen, there is nothing left for the US to take.
But, what if you want to structure your affairs to reduce or eliminate your worldwide tax bill? If form an offshore corporation, and you can follow these five steps, you will eradicate host country income tax, eliminate or defer US tax on your business profits and finally get Uncle Sam out of your pocket – legally and without risk.
Step 1 – Form an offshore corporation in a country that is business friendly
There are a number of tax efficient countries where you can structure your offshore company to pay zero local income tax. Most of these business friendly nations will tax only local source income, or sales to locals, and an internet based or international business will not pay tax on its profits.
To facilitate this, you may need to incorporate in an offshore jurisdiction, as well as in your country of residence, and bill your clients through your offshore entity. The offshore corporation is your "sales" unit and the corporation in your country of residence is your "operating" entity.
Cash flows to your sales entity and net profits are held there. Operating overhead, such as office and employees, are run through the operating entity, which bills the sales unit for these expenses. The operating entity should break-even at year end to avoid local taxation.
If you are marketing to the United States, the most business savvy country from which to operate your offshore company is Panama. It offers a well-qualified English speaking workforce at ¼ the cost of the US and is in the same time zone as America, a big benefit. Panama also has an excellent banking and professional sector, as well as decades of experience in shipping, technology, and production.
Where you incorporate your offshore sales unit doesn't make much difference. So long as 1) it is different from your operating country, 2) does not tax your business, and 3) does not require you to provide annual reports or audited financial statements. In most cases I recommend a sales unit in Belize or Nevis to match up with a Panama operating company.
You might wonder why countries like Panama and Belize offer these types of structures and tax benefits…don't they need tax revenue? First, these countries are relatively small and have nowhere near the military, spying, social programs, and other expenses related to running a superpower. Second, offering these incentives brings in investment, income from employment taxes, as well as employment, sales taxes, and other benefits. A small and efficient economy based on entrepreneurship can bring in sufficient proceeds to offer most of the benefits and few of the costs of America.
Step 2 – Live and Work Outside of the US
To realize tax benefits from your offshore corporation, you must live and work outside of the United States as well as qualify for the Foreign Earned Income Exclusion. If you do not qualify for the exclusion, all of the income in your offshore corporation will be taxable in the United States.
There are two ways to qualify for the Foreign Earned Income Exclusion:
The first is a simple math – be out of the US for 330 out of 365 days. If you can meet this requirement, known as the Physical Presence Test, you are guaranteed to qualify for the exclusion and should have no problems in an audit.
I also note that you can be out of the US for 330 out of any 365 day period. It does not need to be in a calendar year. For example, if you are out of the US from March 1, 2013 to March 30, 2014, and only visited the US for 20 days during that time, then you qualify for the Foreign Earned Income Exclusion.
If you have questions on the Foreign Earned Income Exclusion and how these days are calculated, please see my article: Changes to the FEIE Physical Presence Test Travel Days
The second is based on your intention to become a resident of another country for the foreseeable future and is more challenging to prove if you are audited. As a test based on your intentions, rather than travel days, it requires you to show you are a resident of a country, that you are a part of the community there, and that you have no intentions of returning to the United States in the foreseeable future.
To qualify as a resident, you must get a residency permit and file taxes in your new nation (hopefully, you will pay very little, if anything, but you must file). Also, you should think about applying for citizenship or securing some other long term work permit or enhanced residency status. Finally, you should break as many ties to the US as possible, including selling real estate, moving with your family or spouse, transferring some of your investments or retirement accounts, and have as few contacts with the US as possible. 
If you can qualify under the Residency Test, rather than the Physical Presence Test, you can spend much more time in the United States. While I don't recommend spending more than 4 months, it is possible to spend just under 6 months. If you spend 6 months or more in the United States, you are by definition a resident.  Exactly how much time you can spend in your homeland will depend on the specific facts and circumstances of your situation.
I also note that the Residency Test must cover a calendar year. While the Physical Presence test can be used for any 12 month period, the Residency Test is much more rigid and is usually not an option in the first year you move abroad…unless you happen to move on January 1st.
If you are a perpetual traveler, or on a work assignment abroad, you will need to use the Physical Presence Test. This is because the perpetual traveler never puts down roots in a particular city, and so she is not a "resident" of anywhere, at least as defined by the US tax code. Likewise, the person assigned to work for 3 years in Medellin, Colombia by his employer intends to return to the United States at the end of that job assignment (at least, until he learns how much fun the city can be), so he is not a resident of Colombia for US tax purposes.
Once you qualify for the Foreign Earned Income Exclusion, you can earn up to $97,600 in 2013 in salary from your offshore corporation and pay nothing in US Federal Income Tax. If a husband and wife both qualify, then you can earn $195,200 jointly.
If you are operating a business, and your net profits exceed $200,000, read-on, additional planning is required.
Step 3 – If you are self-employed or have a business, form an offshore corporation
If you are operating a business, you must form an offshore corporation. Failure to incorporate will have dire consequences on your US tax situation. Here are a few examples:
If you do not incorporate, you will pay Self Employment tax on your income, which is approximately 15% and is not reduced by the Foreign Earned Income Exclusion. On joint income of $200,000, SE tax is a little less than $30,000 per year – money you could have saved by planning ahead.
If you do not incorporate, your Foreign Earned Income Exclusion will be reduced by your business expenses. This is a complex matter, but I can summarize it as follows: if your business expenses are 50% of your gross, then your FEIE will be reduced by 50%, from $97,600 to $48,800. So, only $48,800 of your salary is tax free under the FEIE.
If you do not incorporate, 100% of your net profit must be reported as salary. If you incorporate and earn more than the Foreign Earned Income Exclusion, you may be able to retain earnings over and above the FEIE and thereby eliminate or defer US tax. 
It is not tax efficient to draw a salary of more than $100,000 single, or more than $200,000 jointly, from a foreign corporation. If your net profits are above these levels, leave the excess in the corporation and defer US tax until the money is distributed.
There are a number of rules to consider when dealing with retained earnings. For additional information on retained earnings in your offshore corporation, read my previous article here.
Step 4 – Gain residency in your new home country
During your first year offshore, I highly recommend you use the Physical Presence Test to qualify for the Foreign Earned Income Exclusion and spend as little time in the United States as possible. Keep in mind that the Residency Test requires a full calendar year and that qualifying as a resident is a challenging and complex matter.
Once year two rolls around, have all of your documents filed, your ties to the US cut, and your roots firmly in to the community. No matter your long term plans, being able to come and go in the US will be a benefit, and being recognized as a resident of your country of operation will  open a number of doors, both in America and abroad.
For example, a resident will have a much easier time opening bank accounts, getting favorable apartment and office leases, and generally conducting business.  As the luster of the American passport diminishes around the world, a residency card becomes more of a necessity.
Step 5 – File your US Tax Returns, Offshore Corporation Returns, and Report your Foreign Assets and Bank Accounts
As an American citizen, you are required to report your income and foreign assets to the US government or face the wrath of the IRS. This includes an interest in an offshore corporation. The penalties for not reporting these resources are intended to be so draconian that failure to comply is simply not worth the risk.
For the international business owner, the Foreign Earned Income Exclusion and a properly structured entity should remove most of the tax cost of compliance, so reporting and running a "clean" operation should be a welcome relief.
Below is a basic review of the expat Entrepreneur's US filing obligations:
International Bank and Brokerage Accounts
The most critical filing requirements is the Report of Foreign Bank and Financial Accounts. Anyone who is a signor or beneficial owner of a foreign bank or brokerage account with more than $10,000 must disclose these accounts to the U.S. Treasury.
The law imposes a civil penalty for not disclosing an offshore bank account or offshore credit card up to $25,000 or the greatest of 50% of the balance in the account at the time of the violation or $100,000. Criminal penalties for willful failure to file an FBAR can also apply in certain situations. Note that these penalties can be imposed for each year.
In addition to filing the Foreign Bank Account form, the offshore account must be disclosed on your personal income tax return, Form 1040, Schedule B.
Offshore Corporation and Trust Filing Requirements
There are a number of filing requirements for offshore corporations, IBCs and International Trusts. Failure to file the required returns may result in civil and criminal penalties and may extend the statute of limitations for assessment and collection of the related taxes.
•            Form 5471 – Information Return of U.S. Persons With Respect to Certain Offshore Corporations must be filed by U.S. persons (which includes individuals, partnerships, corporations, estates and trusts) who owns a certain proportion of the stock of a foreign corporation or are officers, directors or shareholders in Controlled Foreign Corporation (CFC). If you prefer not to be treated as a foreign corporation for U.S. tax reporting, you may be eligible to use Forms 8832 and 8858 below.
•            A offshore corporation or limited liability company should review the default classifications in Form 8832, Entity Classification Election and decide whether or not to make an election to be treated as a corporation, partnership, or disregarded entity. Making an election is optional and must be done on or before March 15 (i.e. 75 days after the end of the first taxable year).
•            Form 8858 – Information Return of U.S. Persons with Respect to Foreign Disregarded Entities was introduced in 2004 and is to be filed with your personal income tax return if making the election on Form 8832. A $10,000 penalty is imposed for each year this form is not filed.
•            Form 5472 – Information Return of a 25% Foreign-Owned U.S. Corporation is required to be filed by a "reporting corporation" that has "reportable transactions" with foreign or domestic related parties. A reporting corporation is either a U.S. corporation that is a 25% foreign-owned or a foreign corporation engaged in a trade or business within the United States. A corporation is 25% foreign-owned if it has at least one direct or indirect 25% foreign shareholder at any time during the tax year.
•            Form 926 – Return by a U.S. Transferor of Property to a Foreign Corporation is required to be filed by each U.S. person who transfers property to a foreign corporation if, immediately after the transfer, the U.S. person holds directly or indirectly 10% of the voting power or value of the foreign corporation. Generally, this form is required for transfers of property in exchange for stock in the foreign corporation, but there is an assortment of tax code sections that may require the filing of this form. The penalty for failing to file is 10% of the fair market value of the property at the time to transfer.
•            Form 8938 – Statement of Foreign Financial Assets was new for tax year 2011 and must be filed by anyone with significant assets outside of the United States. Who must file is complex, but, if you live in the U.S. and have an interest in assets worth more than $50,000, or you live abroad and have assets in excess of $400,000, you probably need to file. If you are a U.S. citizen or resident with assets abroad, you must consult the instructions to Form 8938 for more information. Determining who must file is a complex matter. See http://www.irs.gov/uac/Form-8938,-Statement-of-Foreign-Financial-Assets for additional information.
With proper planning, selecting the best country of operation and formation of your offshore corporation, keeping in compliance, gaining residency, and, most importantly, utilizing the Foreign Earned Income Exclusion, you can operate your business free of both US and local taxes and make the most of your time abroad.
Please contact me directly at info@premieroffshore.com or call (619) 483-1708 for a confidential consultation.
https://premieroffshore.com/wp-content/uploads/2013/07/147248015.jpg
388
443
Christian Reeves
http://premieroffshore.com/wp-content/uploads/2023/07/Premier_Offshore_Logo-300x64.png
Christian Reeves
2013-07-15 12:18:17
2020-06-12 18:55:03
Eliminate U.S. Tax in 5 Steps with an Offshore Corporation