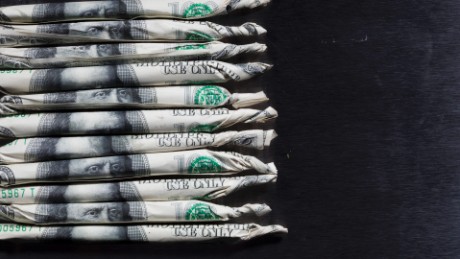 How to Setup an Offshore Bank for the Marijuana Industry
Everyone is trying to figure out how to process transactions for pot distributors. How to work around the Federal laws and operate an offshore bank that solves cash and credit cards dilemma for marijuana shops. Here's how to setup an offshore bank for the marijuana industry.
The marijuana business is growing fast in the United States. In fact, the legal weed market is growing as fast as broadband internet in the 2000s. Take a minute to let that sink in…
As published in Business Insider, "The North American marijuana market posted $6.7 billion in revenue in 2016, up 30% from the year before, according to a new report from Arcview Market Research, a leading publisher of cannabis market research."
Arcview projects sales will grow at a compound annual rate of 25% through 2021, when the North American market is expected to top $20.2 billion.
The only industries in recent history that hit $5 billion in sales and then continued to grow at anywhere near this rate is cable television (19%) in the 1990s and the broadband internet (29%) in the 2000s.
So, the legal marijuana industry is huge and growing fast. Even with all this cash flying around, pot is unbankable in the United States and it looks to remain so throughout President Trump's reign.
Before I get to how to setup an offshore bank for the marijuana industry, let's identify the banking problems. Pot shops bring in a ton of cash. But, they can't deposit it into any banks because these institutions refuse to do business with the marijuana industry.
The reason for these banking and business problems is well known. The Federal government labeled marijuana a Class 1 drug years back, making it illegal. When the States passed medical and recreational statutes, nothing changed on the Federal level. That is to say, marijuana is legal in many states and illegal under Federal law.
Under President Obama, local growers and sellers were left alone. However, it seems the new US Attorney General Jeff Sessions is going to change that. He appears ready to target recreational marijuana shops, if not medical marijuana distributors.
No US licensed bank wants to test these political waters. They could face fines or worse.
Likewise, it's impossible to get a merchant account for a marijuana shop. There's no way MasterCard and Visa will risk the wrath of the Federal government.
Even if you could get a bank to accept your deposits, processing all that cash will cause all kinds of tax and legal problems. For example, each time you deposit more than $10,000, a US bank must file a Currency Transaction Report (CTR) with the Feds.
If you regularly deposit less than $10,000, the bank is going to file a Suspicious Activity Report (SAR). This tells the Feds that you're probably structuring your deposits to avoid the CTR, which is a crime. For more on structuring, see: Structuring Cash Transactions Under $10,000 is Criminal!
Here are the choke points that the Sessions lead government will target when attacking the marijuana industry:
Ensuring Federal banks won't do business with anyone associated with pot.

Taking down a few credit unions or state chartered banks to send a message to the little guys.

Continuing to block access to MasterCard and Visa.

Use the CTR and SAR rules to hit big players in the industry.

Block access to wire transfers and SWIFT should a the industry seek help from an offshore bank.

Likewise, block access to USD correspondent banking should the industry go offshore.
Some have suggested that cryptocurrencies will become the focus of offshore banking. For example, Bitcoin is often touted as the savior of international banks that want out of the US dollar and out of FATCA reporting and correspondent banking issues.
I believe the solution lies with remittances over blockchain / pier to pier, but will require a much more robust solution than provided by Bitcoin alone. For a good discussion of Bitcoin and offshore banking, see: Will Crypto Become The New Offshore Banking Option?
A universally accepted offshore solution for the pot industry will require combining a variety of technologies to sidestep the US banking system, transmit funds abroad in a cost effective manner and allow for payments into traditional US bank accounts for vendors and customers.
I believe an offshore bank for the US marijuana industry will need to have the following characteristics:
A bank which is not licensed in the United States,

operates online with a digital currency to eliminate physical cash,

uses a crypto currency such as Bitcoin and a FIAT currency transmitted via blockchain, (thereby avoiding the Federal wire system), and

issues its own payment cards so that all transactions are handled online over a pier to pier network and not through the MasterCard or Visa networks.

This also avoids MasterCard and Visa rules governing card present vs e-commerce transactions, chargebacks, FX fees, and a whole host of problems that would arise should the industry look to these providers.

Using a pier to pier system would eliminate the costs associated with international wires, making the bank location irrelevant.
To build this payment processing system would require bringing together a number of payers and technology providers. For example, instant access to every shop and most users could be secured through an agreement with WeedMaps or by building a new mapping and advertising platform.
As for technology, there are a number of players in China with blockchain based solutions that could provide all of the capabilities above. For example, BTCC's Mobi card can handle both Bitcoin and FIAT transactions. The problem is that it operates over the Visa network.
FinTech companies in China offer applications that store FIAT currency and transmit pier to pier outside of the banking industry. For example, China Rapid Finance, Chinese Peer-to-Peer Lender (valued at $1billion) and Qiandaibo (acquired by Meituan & Dianpiang on August 2016) are examples.
Examples of pier to pier banking systems include Ripple and BitFury in the United States.
BitFury (bitfury.com) develops and delivers both the software and the hardware solutions securely move an asset across the Blockchain.
Ripple Technology (https://ripple.com/) builds distributed financial technology which enables banks to send real-time international payments across networks without touching the US network or SWIFT.
This is to say, Bitcoin is not the complete answer to this problem. Bitcoin is volatile and not universally accepted. Also, marijuana shops must be able to pay vendors and users will want to hold FIAT currency.
By combining an offshore banking license with a blockchain based money transmission service, one could solve the banking dilemma faced by the marijuana industry. Such a system could operate away from US regulators. Sending remittances pier to pier would make doing business offshore cost effective (by avoiding the costs of international wires).
Such pier to pier transaction and small dollar high volume transmittals are done best by Chinese game top up companies. They handle billions of dollars in transfers at little or no cost over blockchain.
I hope you've found this article on how to setup an offshore bank for the marijuana industry to be helpful. My other recent articles on the topic of licensing an offshore bank include:
https://premieroffshore.com/wp-content/uploads/2017/07/Offshore-Bank-for-the-Marijuana-Industry.jpg
259
460
Christian Reeves
http://premieroffshore.com/wp-content/uploads/2023/07/Premier_Offshore_Logo-300x64.png
Christian Reeves
2017-07-10 12:51:15
2017-07-13 14:28:26
How to Setup an Offshore Bank for the Marijuana Industry