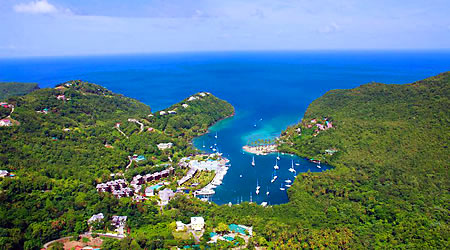 Changes to the St. Lucia Second Passport Program in 2017
One of the hottest citizenship by investment or purchase programs is the St. Lucia second passport. An investment of $500,000 to $550,000 in government bonds, or paying a fee of $100,000 (single), gets you one of the top passports on the market.
Because of the popularity of the government bond program, they've made this option more expensive in 2017. Here are the new fees all the changes to the St. Lucia second passport program in 2017.
The new government fees as of January 1, 2017 for the "donation to the Saint Lucia National Economic Fund" citizenship program are as follows. Whenever you see the word "donation," know it means purchase price.
Single applicant: $100,000

Husband and wife: $165,000

Husband, wife and up to two dependent children: $190,000

Each additional dependent child: $25,000
These fees don't include other government charges, such as your background check, or legal fees. If you're from a top country, like the US, UK, Canada, etc., additional fees are usually around $30,000 for a single applicant. If you're from a country where a background check is more  difficult, such as China or India, expect to pay around $40,000.
If you prefer to get citizenship and a second passport in St. Lucia through investment rather than purchase, you can buy non-interest bearing government bonds. These 5 year bonds issued and guaranteed by the government.
A single applicant will need to invest $500,000 in government bonds and a husband and wife can invest $550,000 to qualify for a second passport from St. Lucia. You will get this investment amount back after 5 years. You won't earn any interest but you get your investment back in full.
The new government charge as of January 1, 2017 for the purchase of these bonds is $50,000. This is a non-refundable fee applicable only to bond investors.
However, in practice, this is not really a "new" fee. Most agents and lawyers who facilitate these programs charge a fee of around $50,000. They don't earn a commission on the bonds, so this was the standard fee being charged by the industry. What the government has done is to formalize the fee.
So, your total out of pocket costs for the government bond program are around $50,000. Your total out of pocket costs for the donation / purchase option are around $130,000. This assumes a single applicant from a top tier country.
The question becomes, do you want to lock up $500,000 for 5 years to save $80,000?
A husband and wife investing $550,000 into government bonds for 5 years will be saving  around $100,000. This is because of the additional legal fees associated with multiple applicants.
Of course, it ignores the opportunity costs associated with the investment. You get zero interest from St. Lucia and could have deployed your capital elsewhere.
Another way to value the St. Lucia bond program is that an investment of $500,000 gives you a return of $80,000 over 5 years. This is a ROI of $16,000 or just over 3% per year… not horrible and not to exciting.
No matter which program you chose, a second passport from St. Lucia is a top tier travel document. It gives you visa-free or visa on arrival access to 125 countries and territories, ranking the Saint Lucian passport 37th in the world. Click here for a list of visa free countries.
While a passport from St. Lucia doesn't get you into the United States or Canada, it does give you access to all of the European Union. Most importantly, it gives you visa free access to the EU's Schengen Region, which includes Austria, France, Germany, Italy, Spain, Switzerland, and 26 different European nations in all. Basically, it gets you anywhere you want to be in Europe.
If you're focused on visa free access to the United States, you'll need a passport from Malta. This one requires an investment of $1.2 million and is far more complex to acquire than St. Lucia.
For example, Malta has a physical presence requirement where you must live on the island for 183 days of the first year. You must also buy a home, and fulfill other terms. For more, see: Second Passport from Malta.
St. Lucia has no physical presence requirement or other hoops to jump through. So long as you have the cash, and a clean background (no criminal history), you'll be approved.
And, again ignoring the opportunity costs, getting that passport for only $50,000 out of pocket, is an amazing deal. That's a fraction of the cost of competitors like St. Kitts.
I hope this article on the St. Lucia passport program for 2017 has been helpful. For more information on this or other citizenship by investment options, please send an email to info@premieroffshore.com or give us a call at (619) 483-1708.
https://premieroffshore.com/wp-content/uploads/2017/01/st-lucia-second-passport.jpg
250
450
Christian Reeves
http://premieroffshore.com/wp-content/uploads/2023/07/Premier_Offshore_Logo-300x64.png
Christian Reeves
2017-01-12 16:39:08
2020-06-12 17:48:10
Changes to the St. Lucia Second Passport Program in 2017