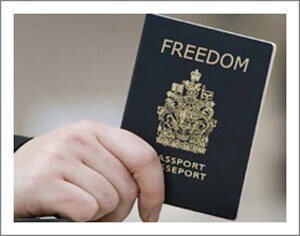 10 Best Second Passports and Citizenship by Investment Programs For 2016
Here are the 10 best second passports for 2016. The citizenship by investment industry has undergone a lot of changes in the last year, including a major change to the St. Kitts passport offering. It's has been kept quiet by those hyping this passport, but I'll give you the full story here.
Here's everything you need to know to buy the best second passport in 2016.
How to Value a Second Passport
First, let's talk about how to value a second passport. The best second passport is a) the one you can afford b) that gives you visa-free travel to the most countries. The smaller the number and the less desirable the countries, the less you should pay.
For example, a second passport from Austria is the 4th most valuable travel document in the world and the most valuable second passport you can buy. This is because it gives you visa-free access to 171 countries.
That is to say, a second passport from Austria is a group 4 travel document. A group 1 passport gives you visa-free travel to 174 countries. Group 1 passports are those issued by the US, UK and Germany. Group 2 offers travel to 173 nations including Canada. Group 3 gets you access to 172 countries and is a passport from Belgium and Netherlands.
Because an Austrian passport gives you visa-free access to 171 countries, it's a 4th tier passport and the best second passport you can buy… if money is no object. By comparison, Dominica gives you visa-free travel to 91 countries and is thus in the 41st tier.
A second passport from an EU country (Bulgaria, Hungary, Malta, Cyprus or Austria) also gives you the right to live and work anywhere in the European Union.
Finally, the number of visa-free travel countries gives you an indication of how your new passport will be received by world banks. An EU passport will allow you to open an account anywhere in the world. A passport from St. Kitts will have fewer options, but generally accepted. I expect it to be nearly impossible to open an account abroad with a passport from Comoros (last on my list of 10 best second passports).
Don't Fall for a Second Passport Scam
There are a lot of online charlatans promising cheap passports, diplomatic passports, or banking passports. All of these are scams…. plain and simple, nothing to debate, they are scams.  
There is no easy or cheap way to get an authentic second passport.
Think of it this way: governments around the world need to raise hundreds of millions of dollars to fill up their coffers. And second passports are are a multi billion dollar business. There is is not lack of customers… in fact, demand often outstrips supply.
In such a market, countries are not interested in diminishing their brand by selling you a passport for $50,000. If anyone tells you different, or they claim to have a guy who can "hook you up," run the other way. 
A Word of Advice to US Citizens on Second Passports
If you're a US citizen, note that owning a second passport doesn't change your US tax filing or paying obligations. So long as you're an American citizen, you must pay tax on your worldwide income. Also, offshore banks will continue to report to the IRS under FATCA.
A second passport  will allow you to travel and invest with more privacy. It is also the first step in renouncing your US citizenship. You must have a new passport in hand before you dump your blue travel document.
You might be thinking to yourself, how will the bank know I'm an American? What if I have all of my documents from, for example, St. Kitts? What will tie me back to the US of A? What if I change my name to further frustrate the records search?
Uncle Sam and the IRS are way ahead of you. All second passports now list your country of birth. If you were born in the US, the bank will see this on your second passport and list you as an American until you provide them proof you've renounced your citizenship.
This was a big issue back in 2014. Countries began blocking St. Kitts citizens from entry on grounds that the passport could be used to facilitate terrorism. Of course, this was at the behest of the United States who was looking to enforce it's FATCA system.
As a result, St. Kitts was forced to recall all passports issued from January 2012 to July of 2014… possibly as many as 16,000 documents. It reissued them with the holder's place of birth and any other names by which he or she had been known.
A second passport has many benefits, but it doesn't allow you to cut out Uncle Sam.
Best Second Passports for Sale
Here's my list of the 10 best second passports for sale. I've compared the price to the number of visa-free countries, as well as access to the EU and United States. For this reason, my top 3 passports are all from the EU.
Russia, in 4th position, is a unique opportunity. Citizenship requires you to set up or invest in to an active business in the country. Because of the weakness of the ruble vs the dollar, Russia is currently a value proposition.
Bulgaria
I rate Bulgaria #1 as the best second passport available because it's one of the two programs where the investor is likely to see her investment again. This offering allows you to invest €512,000 in government bonds in exchange for residency. Then, after a year, invest another €512,000 to gain citizenship. There are also business investment options.  That's about $1.2 million.
The Bulgaria program ties up your cash for 5 years interest free. That's right, the government bonds do not pay interest. It will take two years to get your passport and requires you to visit Bulgaria twice. Residence is granted with acceptance and processing of your clean background check.
Most of the programs listed in this best second passport post charge you a fee for the passport. Bulgaria and Cyprus (below) are the only ones where you can expect your principal returned.
St. Kitts and other offer real estate investment options, but those come at significant additional cost and your prospects for selling for the purchase price are limited.
A passport from Bulgaria is rated 18th in the world and gives the holder visa-free travel to 153 countries, including Switzerland the United Kingdom. It doesn't get you visa free in to the US… only Malta and Austria do that. It also allows you to live and work anywhere in the EU.
A passport from Bulgaria may allow you to work in the UK. There has been some political maneuvering on this point and the results are not yet known.
As a partial member of the Schengen region, Bulgaria gets you access to all of Western Europe. Things are changing quickly in this regard as Bulgaria works to become a full member. For more information, see: The Cost for a Second Passport from Bulgaria will Double Next Year
St. Lucia – Best value in 2016
The St. Lucia second passport program is new for 2016 and modeled after the Bulgaria citizenship program. With St. Lucia, you have the option of buying the passport for $200,000 to $250,000 or investing $500,000 to $550,000 in government bonds for five years.
Because this is a new program, very few second passports have been granted. In my opinion, this makes citizenship from St. Lucia a more private and "below the radar" purchase or investment. I prefer these smaller programs to the big names like St. Kitts which has received a lot of attention in the last few years.
St. Lucia provides visa free travel to 121 countries as well as visa free travel to Switzerland or 180-days in the Schengen area of the European Union. Click here are all the visa free countries. At half the cost of Bulgaria, St. Lucia is the best value in 2016.
You could say that the St. Lucia second passport program allows you to double your money in 5 years. Rather than paying $250,000, you invest $550,000, get a passport immediately, and your capital is returned in 5 years.
When you compare St. Lucia to its Caribbean neighbors, it costs a fraction because you get your investment capital back. Total cost would be fees plus interest lost / opportunity cost of the capital invested into government bonds.
Malta
Like Bulgaria, Maltese citizenship gives you the right to live and work anywhere in the European Union. It also allows you to travel visa-free to the United States. Malta and the US have a Visa Waiver program, which operates a bit differently from other systems. 
A Malta passport also gives you access to Switzerland and visa-free travel to 166 countries. A passport from Malta is the 8th most valuable travel document.
The cost of a Maltese passport is $1.57 million dollars plus fees. Expect it to cost around $1.85 million "all in."
This program is capped at 1,800 passports and there's a requirement to "reside" in Malta. The number of days you are to be present on the island are not stated and it's understood you won't be a full time resident (someone who spends more than 6 months in country). But you should plan to spend "a reasonable amount of time" in Malta, whatever that means.
Cyprus
Cyprus is the third smallest nation in the European Union and made it on to the world stage by seizing wealthy foreigners cash to bail out their banks during their 2013 recession. Surprisingly, from this mess came their current citizenship offer.
In order to bring back international deposits, and ensure these investors wouldn't face a similar fate, Cyprus began offering passports and citizenship with investments of €2.5 million. As a second passport holder you will receive the same rights and protections of any Cyprus citizen.
Another use of the citizenship program was to compensate the mostly Russian foreign depositors whose cash they'd "borrowed" and converted into equity. Many of these high net worth Russian investors were given special deals in appreciation for their mandatory contribution.
Austria
Austria is the gold standard of the second passport and citizenship by investment programs. If money is no object, this is the passport to buy.
It's the most valuable passport available for purchase, the best EA passport, and offers visa-free travel to 171 countries. A second passport from Austria is the 4th most valuable passport in the world.
And it's the most expensive second passport. You can qualify by making a donation of €2 to €4 million or by investing about €10 million in an approved business. Such a business is expected to employ a significant number of people and generate taxable income. The amount of investment and business type are negotiable.
Expect fees and other charges to exceed $500,000 in this program.
Russia
Like the Austrian business program, this citizenship by investment option was approved and signed in to law in late 2014. It's just getting started and no second passports have been issued as of this writing.
Russia requires you to invest in to a business or setup your own venture that will employ a number of people and generate tax revenues to the country.
Because of the value of the ruble to the US dollar, the Russian offer is one of the most cost effective… and the only from a world power. You might qualify with an investment $165,000.
In 2014, Russian citizens had visa-free or visa on arrival access to 100 countries and territories. This will change in 2015. For example, Ukraine will probably be removed from the list. A Russian passport currently ranks 38th in the world.
Please see my post Russian Second Passport Program for more information. Remember that this opportunity is focused on bringing business and jobs into Russia rather than cash from the sale of passports, so it functions differently from the others described here.
Dominica
Dominica is the least expensive of the Caribbean passports. A second passport from Dominica will cost a family of four (applicant, spouse and two children under 18-years-old) about $250,000, plus $25,000 for each additional child under age 25. With filing, registration and professional fees, applicants can anticipate a total cost of $350,000.
To put it another way, a family of four can obtain economic citizenship and second passports from Dominica for less than the cost of a single passport from St. Kitts.
The discount is necessary based on how we value second passports. A travel document from Dominica gets you visa-free travel to only 91 countries, making it the 41st most valuable travel document.
Please see my Second Passports article for fees and other information on Dominica (near the bottom of the page).
Antigua and Barbuda
Like St. Kitts (below), you can buy an Antiguan passport for a $275,000 donation or a $500,000 investment in real estate, plus about $60,000 in fees. Also like St. Kitts, the passport gives you visa-free travel to 132 countries and is ranked 24th.
The St. Kitts and Antigua programs are mirror images of each other. If you're going to buy the passport by making a donation to the government, you might as well save yourself $50,00 and go with Antigua. If you choose real estate, then St. Kitts might be the better choice.
As of April 14, 2015, a second passport from Antigua gives you visa-free travel to Canada, where a passport from St. Kitts does not.
St. Kitts and Nevis
St. Kitts has become the #1 seller of second passports in the world. You can buy a passport with a $295,000 "donation" to their sugar fund or by investing at least $500,000 in real estate. You never need visit St. Kitts nor take a citizenship test… simply pay the money or buy the property and you're good to go.
Unless you plan to live in St. Kitts, I recommend the "donation" option. Real estate in St. Kitts is overvalued. When you add in taxes and maintenance costs, you're better off paying the fee. And you'll be lucky to find a single family home for around $500,000… more likely $800,000 to $1 million.
If you insist on the real estate tract, consider a condo timeshare. But, be warned, the island is filled with mostly empty timeshares and you'll have a tough time recouping your "investment."
The St. Kitts passport will get you visa-free travel to 132 countries, with Brazil being recently added to the list. Unfortunately, in November of 2014, Canada announced it would no longer allow St. Kitts citizens to enter without a visa.
The St. Kitts passport is ranked 24th in the world in 2016. Expect it to drop a few notches in 2015. Please see my Second Passports page for details.
Grenada
Grenada reopened its citizenship by investment in 2014 (having closed it from 2001 through 2013). The current version requires an investment of $250,000 in an approved real estate project.
A second passport from Grenada lets you access 110 countries, including the United Kingdom, Hong Kong, South Korea, Singapore, Panama, and most British Commonwealth nations. It does not give you visa-free travel to Canada or the US.
As far as I can determine, only one real estate development has been approved, the Mount Cinnamon Resort and Beach Club. Had there been more investment options, I may have ranked Grenada above St. Kitts. It's a second passport which is not on anyone's radar and a transaction which can be completed in private.
Residency / Long Term Options
If you're willing to wait a few years, and to live in the country to prove your commitment, you can earn citizenship after a period of residency. The best options are:
Belgium (5 years),

Singapore (3 years),

Uruguay (3 years if married 5 if single),

Paraguay (3+ years),

Australia (4 years),

Chile (5 years), and

Panama (5 years),
Of these, my favorite is Panama. Panama offers the best tax deal and residency can be obtained for as little as $8,500 (single applicant) through their "favored nations visa" program.  It's also possible to get residency in Panama for free if you combine it with an investment in teak. For more on  this, see: Best Panama Residency Program by Investment.
I hope you've found this post helpful. For more information on second passports and economic citizenship programs, please contact me at christian@premieroffshore.com.
https://premieroffshore.com/wp-content/uploads/2015/04/second-passport-freedom.jpg
236
300
Christian Reeves
http://premieroffshore.com/wp-content/uploads/2023/07/Premier_Offshore_Logo-300x64.png
Christian Reeves
2016-03-15 09:00:22
2016-06-02 07:35:12
10 Best Second Passports and Citizenship by Investment Programs For 2016