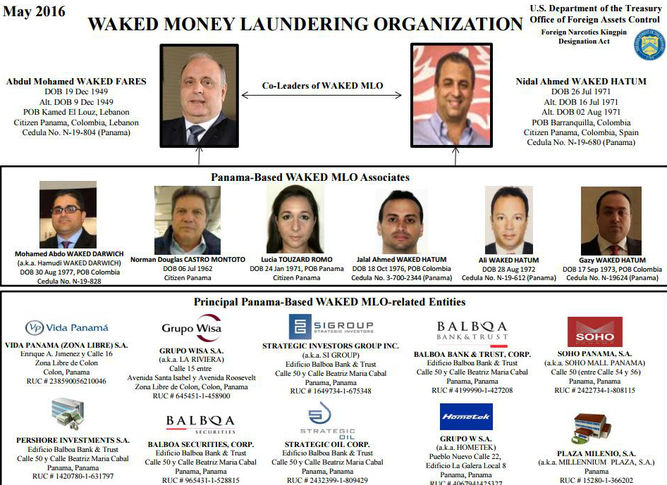 US Government Shuts Down Balboa Bank in Panama
The United States Government has decided to take down Balboa Bank in Panama. American authorities claim that this bank facilitated money laundering on behalf of Abdul Mohamed Waked and his band of evildoers.
In a crazy coincidence, this is the SECOND TIME the US has gone after this bank… at least, this banking license.
Balboa Bank Panama is owned by a company called Strategic Investors Group. Back in 2010, these guys paid the Panama government $15.5 million for the license of the defunct Stanford Financial Group.  Yes, THE Allen Stanford who was convicted of running a massive ponzi scheme through his US hedge fund and the offshore banks he owned in Antigua and Panama. The guy who allegedly perpetrated the second largest scam in US history was the original licensee of Balboa Bank.
Sometimes life is stranger than fiction. Here's what happened in Panama this time around.
As you can see from the image attached to this post, Waked is associated with a large and powerful money laundering cartel. Anytime the US government puts out a flowchart with its press release, you know it's a big time prosecution.
You can read the official report here and the news version here. For the politically correct version, here's CNN.  You know it's CNN from the title: 3 Nations Move Against Alleged Big Money Launderer in Panama.  A more honest title would be: Acting on Instruction from their American Overlords, Panama and Colombia Move Against Alleged Money Launderer.
Whenever these cases come up, I like to give you some of the back story and describe how it will affect the many hundreds of account holders at Balboa Bank. You know, the 99.9% of the clients of Balboa Bank Panama who did nothing to anger Uncle Sam.
First, you might like to know that the Waked family is very well respected in Panama. They are leaders of the community and one of the primary movers behind the Colon free trade zone which supports the Panama Canal. They are Panamanian citizens and one of the top 10 families in the country.
Another point of interest is that there are two competing families in control of the Colon free zone – Waked and Motta. With the Waked clan out of the picture, Motta will dominate trade in the region.  
Now let's focus on Balboa Bank. How did the US "shut down" the bank and what's likely to happen now?
The US government doesn't actually have the authority to shut down a bank in Panama. Instead, the US State Department says Balboa Bank has done something wrong and puts them on a black list. By placing the bank on this list, called the Clinton List, the US government is now able to freeze all of the assets of Balboa Bank Panama… both assets in the US and abroad are subject to seizure.
It's called the Clinton List because it was created during Bill Clinton's time in office. No, it's not maintained on Hillary's email server.
Because most banks hold the majority of their customer's cash in the US (through their correspondent banking partners), they are at the whim of the US government.
If a foreign bank gets on the wrong side of Justice, it's cash is frozen and it's wire facilities turned off.  A bank without cash or wire transfer capabilities is effectively out of business. It can't execute inbound or outbound transfers, debit cards stop working, it can't buy or sell securities, and it can't return any of the money held in trust for its depositors.
As of today, Balboa has almost no cash, customers can't pay their bills or get to their savings, and it's shut down… just like Stanford before it.
As a result, the Central Bank steps in and takes over operation of Balboa Bank Panama. They will eventually close down the bank and sell off the license once again.
Remember that no trial has taken place – not in the US nor in Panama. No one has been convicted of wrongdoing and the bank has not been charged with a crime.  The seizing of cash and the effective closing of Balboa Bank is done with a stroke of a pen in Washington.  
Now begins the fight for cash between the United States and the Panama Central Bank. On one side, the Central Bank will beg and plead for the return of Balboa Bank's dollars so they can pay it to the bank's customers. On the other side, the US will keep any booty it deems to be the proceeds of criminal activity – even if that activity had no connection to the US.
The US does the same to its citizens – if you are

suspected

of a crime, the government can take whatever assets you have until you prove your innocence. For a great commentary on these civil forfeiture laws, check out

Last Week Tonight on YouTube

.
Based on past experience with Stanford, customers of Balboa Bank can expect to wait over a year for the return of their money. Yes, the US government will keep all of the cash in trust until negotiations are complete. Average Joe's with accounts at Balboa Bank will be expected to make due. They will have no access to ATMs or other services.
If have an account at Balboa Bank, you might be wondering what you can do to get to your money. Here's the truth – nothing, nada and zilch. It's stuck until the US government allows it to go free.  No amount of angry calls to Panama will help. The staff at Balboa Bank would happily give you your cash if they could. It's the US who has your money, not anyone in Panama.
I will close with one word of caution: If you are a US citizen with an undeclared account at Balboa Bank in Panama you should be afraid, be very afraid.
As a part of the negotiation with the US, Panama will attempt to prove which accounts had nothing to do with money laundering or the Waked clan. In this effort, the bank will be providing the US government with access to every account, document, and wire transfer that has gone through Balboa Bank in the last few years.
Rest assured that the US IRS will be reviewing these files right along with the US Justice Department. If you have an undeclared account at Balboa Bank, you should take action immediately. Consider joining in one of the Offshore Voluntary Disclosure Programs * offered by the IRS – but do it fast before your file comes up for review.
     * The link above is to the 2014 Voluntary Disclosure Program. This is the current program and still available in 2016.
I hope you have found this post informative. If you are a US person with an undeclared account at Balboa Bank, please contact me for a confidential consultation. I can be reached any time at info@premieroffshore.com or by phone (619) 483-1708.
https://premieroffshore.com/wp-content/uploads/2016/05/Money_Laundering_List_Waked.jpg
485
667
Christian Reeves
http://premieroffshore.com/wp-content/uploads/2023/07/Premier_Offshore_Logo-300x64.png
Christian Reeves
2016-05-06 13:02:28
2020-06-12 18:08:17
US Government Shuts Down Balboa Bank in Panama