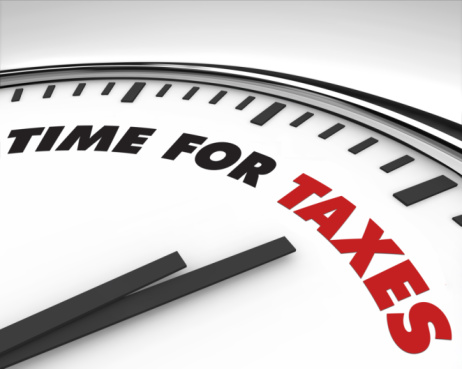 IRS Automatic Extension for Expats: April 16 is the First Day of the Expat Tax Season
Because of the IRS automatic extension for Expats, today, April 16, is the first day of the Expat tax filing season. While those of us stuck in the U.S.A. must file and pay by April 15, Expats get an automatic two month extension.
This two month automatic extension for Expats is more valuable than the standard six month extension to file your taxes. See, the six month extension allows you to file your return on October 15, but it does not extend the time to pay your taxes. If you pay after April 15, penalties and interest will apply.
If you are living abroad, you have two extra months to file and pay without getting hit with any fees by the ever generous IRS. This means you have an extra two months to use that cash before it goes in to Uncle Sam's coffers.
If you use the automatic two month extension for Expats, make sure the IRS knows that you qualify so you don't get stuck fighting over an erroneous bill. There is no form available to put them on notice, so you need to attach a letter to the front of the return with your name (or names if a joint return), foreign address, and social security number(s). Either tell the IRS that you are employed in Country X, or that you are a tax resident of Country Y and thus your return is due on June 15.
This extension is only for those who are resident or working in another country as of April 15th. If you were living abroad in 2013, and returned to the U.S. in January of 2014, you may not take the IRS Automatic Extension for Expats.
If you need more than two months, you can use IRS Form 4868 just like the rest of us gringos to get the standard 6 month extension. Of course, you will be expected to pay by June 15 and, if you pay after that date, interest and penalties will apply. For a rough estimate, paying after June 15 will cost about 4.5% per month in fines.
For more information on Form 4868, see the IRS website.
For information on late filing penalties, see this section of the IRS site.
You should also keep in mind that the two and six month extensions don't affect your FBAR filing deadline. You must report your foreign bank account by June 30th, no matter when you file your personal return. If you need to report a foreign bank account, checkout my article on New FBAR Filing Requirements for 2014.
If you are operating a business through an offshore corporation and filing Form 5471, this form is attached to your personal return. Thus, extending your personal return automatically extends the time permitted to file your corporate return. No additional extension is required.
However, the two month and six month extensions above do not apply to offshore trusts. If you file Form 3520-A or 3520, these are due on March 15 and can be extended until September 15 using IRS Form 7004 (see the IRS website for more information).
Finally, if you are an Expat who is going to qualify for the Foreign Earned Income Exclusion late in the year, you can get a special extension from the IRS to file after the October 15 deadline. To use this extension, you must file IRS Form 2350 by April 15, and pay any expected tax due by April 15 (that's right, not June 15 when using this extension). For more information, see Extension of Time to File in Order to Qualify for the Foreign Earned Income Exclusion.
When might someone need this FEIE extension? Let's say you leave the U.S. on November 1, 2014 and want to use the 330 day test to qualify for the FEIE on income earned abroad from November 1, 2014 to December 31, 2014, as well as get credit for those days to qualify in 2015. In that case, you must file your 2014 return 30 days after you qualify for the FEIE, which would be December 2, 2015. You may not file your 2014 return until you actually qualify for the FEIE…you may not assume you will qualify.
For those of you who love trivia, here is the origin of the automatic extension for Expats to file their Federal tax returns. Under the mail box rule, your tax return is received by the IRS when you place it in the mail box. Lawyers also call this constructive receipt.
When you mail your tax return in the U.S. on April 15, it arrives at the IRS in just a few days. If you are out of the U.S., it might take a very long time in deed to go from China to a package to Uncle Sam using standard international post. The automatic extension for Expats came about as the longest time the IRS would allow a package to arrive from overseas. So, back in the day, the IRS was to receive your return by June 15, whereas you needed to post your return by April 15 from the U.S.
Today, those using the automatic extension for Expats can mail their return and payment on June 15…it need not be received on that date. If you will be sending in a paper return on this date, I strongly recommend you use FedEx or another courier service to avoid significant delays.
As electronic filing has become the norm, the justification for the automatic extension for Expats has changed. Today, it is explained as the extra time Expats might need to collect documents and file their local returns so that they know how to make use of the Foreign Tax Credit and related deductions.
As we get ready for the Expat tax filing season, please take a minute to read through my tax page. Feel free to send me an email at info@premieroffshore.com or call (619) 483-1708 if you would like for us to prepare your U.S. Expat tax return. We are experts in Forms 5471, the new FBAR, Form 2555, and all the others those living, working and investing abroad must come to terms with.
https://premieroffshore.com/wp-content/uploads/2014/04/100855775.jpg
369
462
Christian Reeves
http://premieroffshore.com/wp-content/uploads/2023/07/Premier_Offshore_Logo-300x64.png
Christian Reeves
2014-04-16 13:38:29
2020-06-12 18:45:40
IRS Automatic Extension for Expats: April 16 is the First Day of the Expat Tax Season